Directions on Campus
The main conference is held at the Maison Jean Kuntzmann (MJK), and workshops occur at the nearby Ensimag building. They are located on the campus and reachable by foot from either "Gabriel Fauré" or "Bibliothèques Universitaires" tram stops, both on "B" and "C" tramway lines. MJK and Ensimag entrances are on the west side of their respective building. A detailed map with tram stops, MJK and Ensimag is available here (or click on the map below): http://umap.openstreetmap.fr/en/map/sefm2014-detailed-directions-on-campus_14780.
Detailed addresses of conference locations:
Main Conference:
Maison Jean Kuntzmann
110, rue de la chimie
Domaine Universitaire
38400 Saint Martin d'Hères
Workshops:
Ensimag
681 rue de la passerelle
38400 Saint Martin d'Hères
Accommodation
Grenoble offers a wide range of hotels to fit all kinds of budgets. You have plenty of choice in the city center, and along the tramway B line which connects to the campus where the conference is held. A few hotels are also located next to the campus, they offer a cheap and convenient accommodation but are located far away the city center.
The following map shows the train station, the conference location and the tramway B line, along with a suggestion of hotels : http://u.osmfr.org/m/10452/ (Or click on the map below). Many other hotels are possible, and we do not have any special deal with the ones on the map, we just recommend to select one that is at a walking distance from the tramway B line for convenience.
Touristic Informations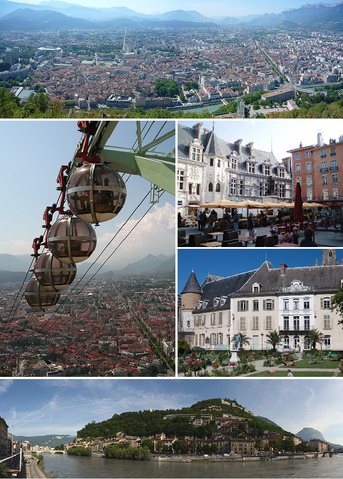 Grenoble is know at the Capital of the Alps, and offers several places of interests. After a walk in the old city center to discover narrow streets and old churches, you can head to climb the Bastille (take the "eggs" if you want to save your energy) and enjoy an incredible view of the city and its surrounding mountains. If the weather is good, you can even see the Mont Blanc! The main museum is famous for its modern art, and other museum are worth visiting for an overview of the region history. Grenoble also offers a wide variety of restaurants, a good opportunity to taste cheese-based specialties of the region. If you prefer pizza, the "Italian dock" by the Isère river is for you. And, as a student city, numerous bars populated Grenoble, one of which claiming to be the oldest of France!
For more information, the Grenoble Tourist Office is a good start. Not far away from Grenoble and accessible with public transportation, you can also visit the following:
How to reach Grenoble
Grenoble is well connected to several international airports. How to reach Grenoble:
By plane
Shuttle buses to Grenoble train station everyday: http://www.faurevercors.fr/FAUREVERCORS_WEB/UK/PAGE_NAVETTE.awp
There are two stops in Grenoble, get down at the last one which is the coach station (next to the train station). This is where most people get down. There is also a train station at Lyon airport, with high-speed train connections to Grenoble.
Geneva airport is located in Switzerland, you may need a different visa, if any. Shuttle buses to Grenoble train station, everyday : http://www.aerocar.fr/en/
There are two international airports in Paris: Charles De Gaulle [CDG] and Orly [ORY]. From both, you need to reach the Gare de Lyon train station, and then to take a train to Grenoble (see below).
Warning: the Paris Beauvais Tillé [BVA] airport has Paris in its name but is actually quite far away from Paris, we do not recommend to land on this airport.
By train
By car
Consider taking highways : A48 from Lyon, A41 from Chambéry (North of Grenoble).
PARTNERS